State Of The Art High Resolution Print Technology
GEMcam Fine Art Photography uses state of the art highest-quality print technology to assure true depth, highest resolution and a silvery sheen


State Of The Art Technology For Extreme Resolution: Metallic UltraHD Photo Prints Under Acrylic Glass
To account for Gero Matt´s highest resolution photography, state of the art print technology is applied.
Acrylic-mounted ultraHD photo prints are striking in their outstanding picture quality.
The finest details are reproduced realistically with precise contours and clear contrasts.
A new exposure process takes full advantage of all the information contained
in the image file in order to produce the amazingly realistic look.
The pearly shimmer intensifies the luminosity of colours and brings out the best in contrasts.
Innovative Exposure on Real Photo Paper
A Dazzling Effect for Selected Images
Brand-Name Paper with a Metallic Sheen
Gero Matt´s Fine Art With Metallic Photo In UltraHD: Paper With Metallic Gloss
Gero Matt´s Fine Art Photography photo print is exposed using the latest laser technology. The ultraHD paper is particularly suited for images with intense colour and high contrast. The bright areas shimmer most dynamically. This assures an extraordinary look with this high-gloss finish and for maximum detail and incredibly intense colour.
Acrylic And Aluminum Mounting For UltraHD Prints


The pearly shimmer of the print paper used intensifies the luminosity of colours and brings out the best in contrasts. The ultraHD version assures double resolution of Gero Matt´s Fine Art Photography.
Glossy acrylic glass, 2 mm (1/16 in.) thick
Photo print with shimmering look & silicone sealant
Sturdy aluminum Dibond backing
Double Gloss: Crystal Clear Acrylic On
UltraHD Photos With A Metallic Look
A 2mm (1/16 in.) of light, shatterproof acrylic glass is used to mount Gero Matt´s Fine Art Photography print. The sturdy aluminium Dibond backing provides additional stability. Brilliant acrylic glass adds physical depth to the Fine Art Photography and intensifies the colour. The image will look especially vivid and elegant.
The Sturdy Design Of Aluminum Dibond


The acrylic photo has a backing consisting of a 3 mm (1/8 in.) thick composite material consisting of two aluminum layers and a polyethylene core. The backing ensures long-lasting stability. The low weight of aluminium allows for easy picture hanging.
Aluminum layer
Black synthetic core
Aluminum layer
White backing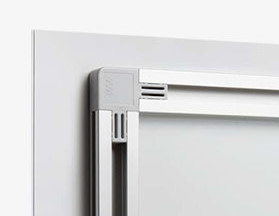 The Aluminum Rail Rectangle
The aluminum rail rectangle ensures reliable hanging of all formats and sizes.